Blog
Blog
4 easy ways to convert BTC and ETH to cash
Back
Sooner or later crypto holders face the need to cash out their BTC and ETH assets, but few people know how to do it quickly, easily and securely. There are several ways to carry out this transaction, avoiding commission losses as much as possible. Here is the whole process in detail.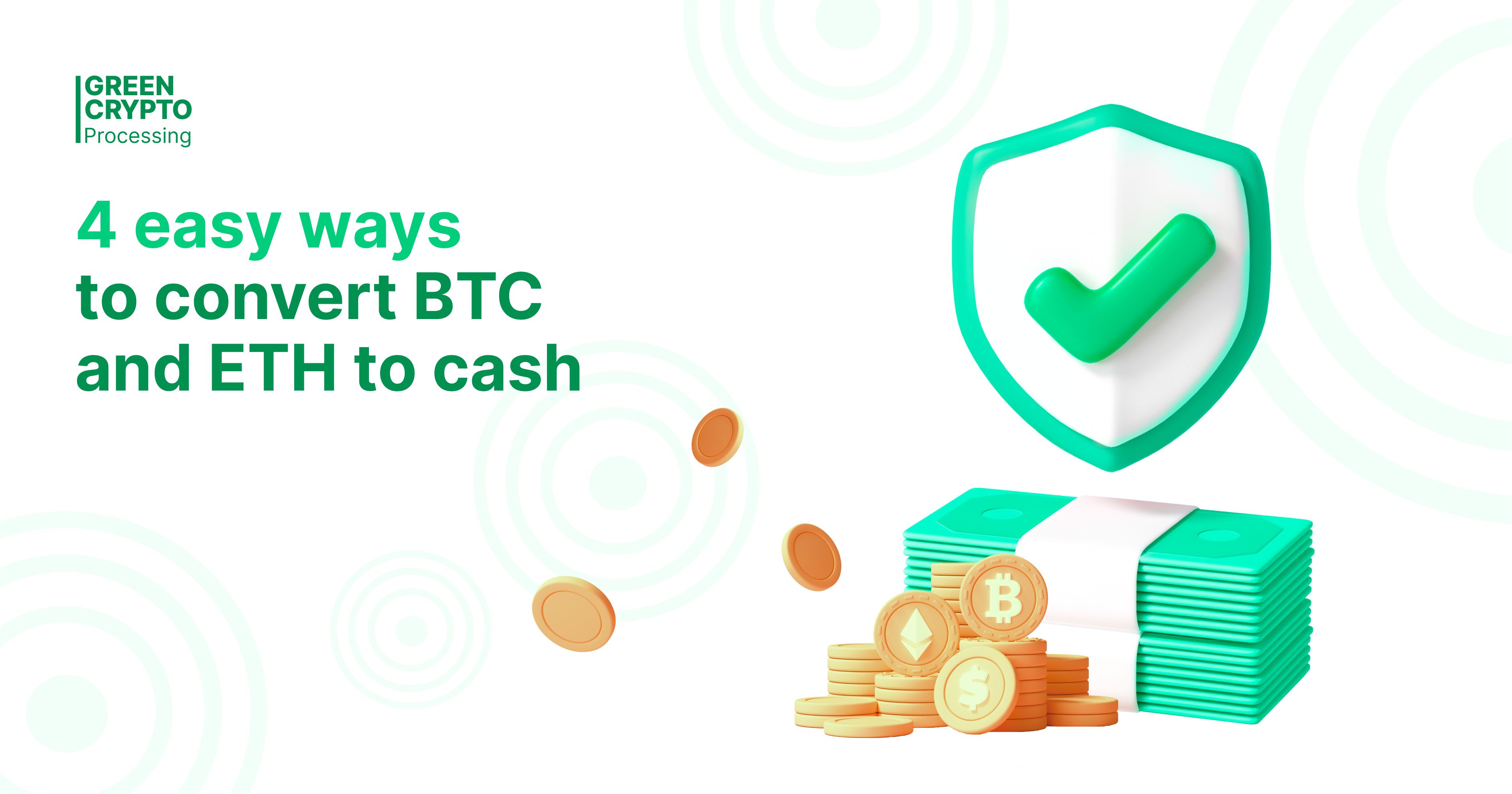 How to convert BTC and ETH to cash
There are four primary ways to turn BTC and ETH into cash instantly:
1. Crypto debit card
One of the easiest ways to convert digital assets into cash is with a crypto debit card. It works similarly to a regular debit card, and the only difference is that funds are withdrawn from a crypto wallet, not from a checking account. These debit cards support all major cryptocurrencies, including Bitcoin and Ether, and can be used to pay both online or offline, anywhere they are accepted.
2. Centralized Exchange (CEX)
Not all crypto enthusiasts know that cashing out or selling cryptocurrency with a centralized exchange is as easy as buying it. To do this, select your coin and amount to convert and pay a transaction fee. Once the transaction is completed, the funds could be sent to a bank account and withdrawn then.
3. Peer-to-peer transaction (P2P)
While some users appreciate centralized exchanges for the ease of storing and cashing out crypto holdings, other users criticize them for the fees. P2P exchanges solve this problem by providing transactions between the seller and buyer without an intermediary and, as a consequence, fees. However, keep in mind that this method is slower and more complicated than converting via debit card or CEX, so it is suitable for experienced users only.
4. Bitcoin ATM
A Bitcoin ATM  is a standalone machine that allows users to withdraw and deposit cryptocurrencies as well as turn them into fiat (and vice versa). It is no more difficult to use than a regular ATM. Bitcoin ATMs are available across the world and do not require a bank account, only a crypto wallet. However, the transaction fees can be quite high, which should also be taken into account.
What to consider before cashing out BTC and ETH
Converting Bitcoin and Ether into cash is simple, but there are a few things to consider before making the transaction:
- Taxes.
Converting cryptocurrency into fiat is a taxable transaction no matter which method you use. Therefore, it is advisable to consult with a tax professional to understand the procedure in your area.
- Transaction fees.
Transaction fees are an inevitable part of transacting in cryptocurrency, and their size largely depends on which method of conversion you use. To avoid high fees when cashing out, learn each method beforehand.
- Speed.
Each of the methods above take different amounts of time and effort. For example, using a crypto debit card or CEX is much faster than cashing out through a P2P exchange or finding a Bitcoin ATM, but it will also cost more. Evaluate your needs before transacting: how quickly you need the cash and how much you are willing to spend to get it.
- Security.
When making a crypto transaction, just like any other transaction, it is important to make sure that the platform used is secure. Inexperience of many users makes cryptocurrency a prime target for hackers and fraudsters, so always be extra careful before converting funds.
- Goals.
Have a financial plan and map the targets of converting your BTC and ETH into cash. This will help to turn the cashing out, including all efforts and costs, in your favor.
We have reviewed the four ways to convert Bitcoin and Ether into cash. Each of them combines multiple platforms and has its own advantages and disadvantages, so the final choice depends on your needs and preferences only.
A reliable tool for storing and sending crypto assets — Green Crypto Processing — will also provide significant support to your business. With GCP, you will be able to accept BTC and ETH payments from clients in any part of the world as well as discover a completely new, promising market.