Blog
Blog
What is Ethereum? Principles of use and benefits
Back
While bitcoin is known as 'digital gold', Ethereum is often referred to as 'digital oil' - and for good reason. Unlike the first cryptocurrency, it was created not just as digital money, but as a global decentralised computing platform used for a vast range of applications.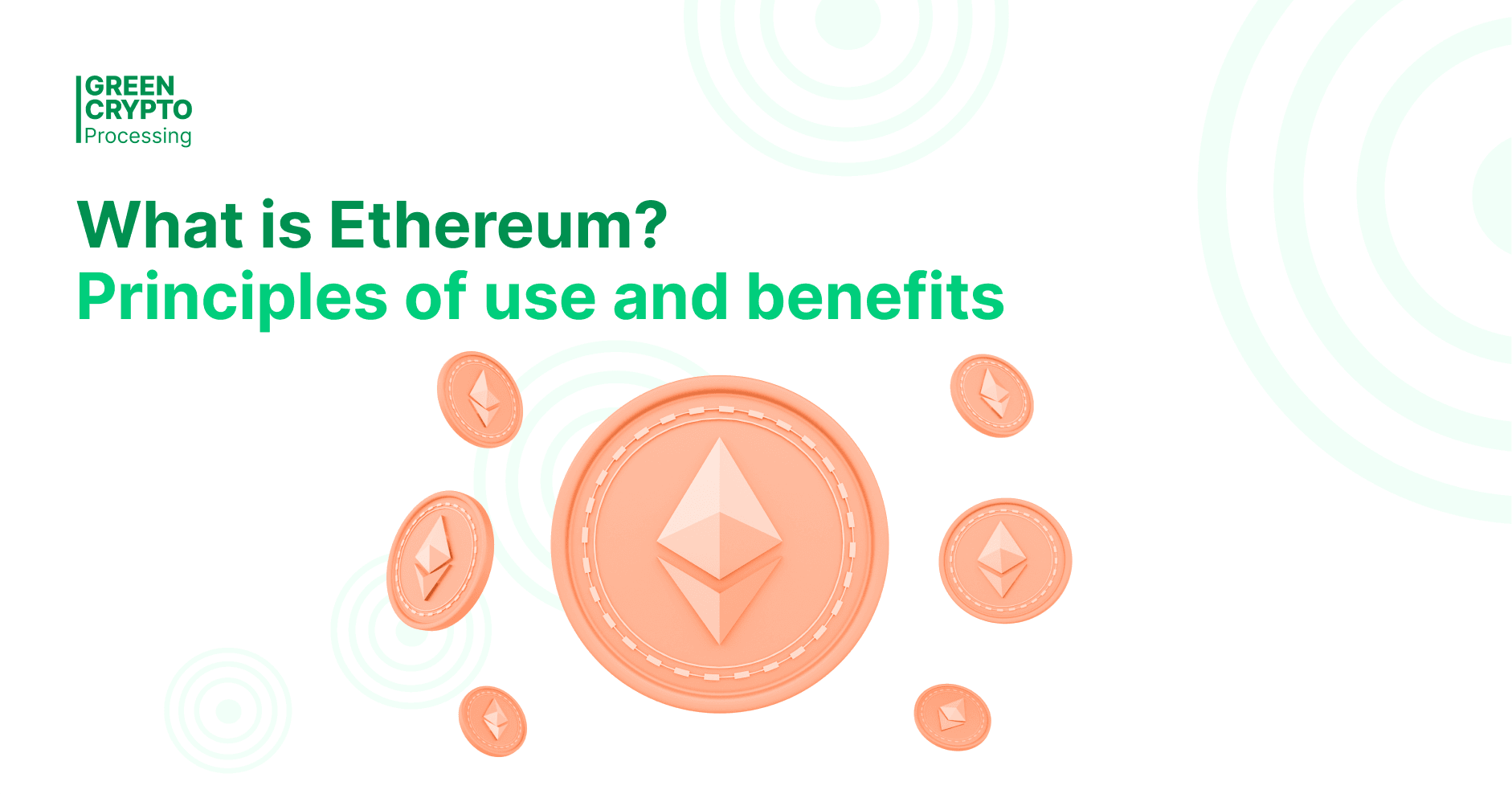 In this guide you will find comprehensive information on what Ethereum is, as well as an introduction to all the features of this virtual machine.
Ethereum: what is it?
Ethereum is a new kind of global decentralised computing platform that leverages blockchain transparency and enables a wide range of applications based on it, from financial instruments and databases to games. The potential of the platform is virtually limitless, as Ethereum can be used to codify, decentralise, secure and trade, etc.
 
At present Ethereum is being used as:
 
an investment vehicle, a store of wealth and a decentralised platform for crypto transactions (including stablecoins and Ether);
 
a platform for building and running decentralised online services based on smart contracts (including DeFi and DApps).
 
Thanks to smart contracts, Ethereum-based apps are protected against third-party interference, fraud and censorship.
How does Ethereum work?
Unlike bitcoin, which functions through blockchain technology, Ethereum is more flexible and similar to a global computer made up of many individual computers running the entire software. Keeping these computers running involves investment in hardware and electricity, so the network uses its own cryptocurrency called Ether, or ETH, to cover the costs.
 
While interacting with Ethereum, users pay a fee in ETH to execute smart contracts, which keeps the network running. These fees are called 'gas'. The 'gas' rates vary depending on how busy the network is.
Is Ethereum secure?
The ETH blockchain is as secure as the BTC blockchain. This is possible because of the huge amount of computing power (contributed by all the computers on the network) verifies and secures every transaction, making third-party intervention impossible.
 
In addition, Ethereum uses fundamental ideas behind crypto industry: the systems are permissionless and the core software is open-source, meaning Ethereum networks are completely transparent and secure.
 
The safety of Ethereum-based apps is only guaranteed to be as secure as their developers have made them. For instance, code can sometimes contain bugs that could result in loss of funds. Therefore, pay special attention to doing research on any decentralised app you plan to use.
How does ETH have value?
The price of "gas" (transaction fees) is determined by the ETH network load. And Ether's value, like any other asset, is set by markets and demand. People buy this cryptocurrency 24/7, and the price fluctuates from day to day. Ethereum is a new technology, and therefore ETH has high volatility.
 
Another issue is how Ethereum has value in the whole. To many investors Ethereum's value is based on its flexibility as a platform for issuing stablecoins and running DeFi apps, as well as on growing user base and growing transaction fees.
Ethereum: a brief history
1. 2013

Vitalik Buterin, a 19-year-old programmer, releases a whitepaper proposing a highly flexible blockchain that could support virtually any kind of transaction.
 
2. 2014

The co-founding team crowdfunds the development of the Ethereum protocol through an ICO with the sale of $18m in pre-launch tokens.
 
3. 2015 

The first public version of the Ethereum blockchain launches and smart contracts functionality begins to roll out.
 
4. 2016 

By exploiting a software bug, hackers steal about $50m from a smart-contract-powered venture fund called DAO. The Ethereum community decides to revise the protocol to restore the lost funds. This results in the branching off (fork) into two separate blockchains: Ethereum and Ethereum Classic.
 
5. 2017
 
The ERC-20 standard is created, making it easier for developers to build compatible applications. ERC-20 defines a way to create an asset or token on top of the Ethereum blockchain;
 
The first widely popular Ethereum-based app called CryptoKitties is released;
 
The nonprofit Ethereum Enterprise Alliance launches to develop apps for smart contract technology. The initiative is supported by JP Morgan, Samsung, Microsoft and Mastercard;
 
MakerDAO, the first DeFi on the Ethereum blockchain, launches. It also introduces the first ETH-based stablecoin, DAI;
 
ETH breaks the $100.

6. 2018
 
The arrival of lending protocol Compound and decentralised exchange Uniswap;
 
ETH breaks the $1,000 and becomes the world's second largest cryptocurrency by market capitalization.
7. 2019
 
A transition from Ethereum 1.0 to Ethereum 2.0 is scheduled;
 
Ethereum 2.0 introduces Proof of Stake as part of the first phase, but Proof of Work continues to be used as a consensus algorithm.
8. 2020
 
The start of the transition to Ethereum 2.0;
 
ETH breaks the $1700.
9. 2021

ETH breaks the $3000.
 
10. 2022

A major update The Merge has been activated: Ethereum is moving to the PoS algorithm, which solves the problem of scaling up and making transactions cheaper.
To summarise, the emergence of Ethereum has been one of the key events for the entire crypto industry. The project is currently one of the most in-demand platforms for building next-generation apps, and its range of applications continues to expand every day.
 
ETH will soon be available on the Green Crypto Processing service, and you could easily connect crypto payments both in bitcoins and Ether.