Blog
Blog
5 marketplaces that benefited from crypto payments
Back
Have you ever wondered how implementing cryptocurrency as a payment method can lead your business to success? From instant payments from anywhere in the world to limitless expansion of your target demographic, there are many reasons why crypto payments can be a real booster for your business.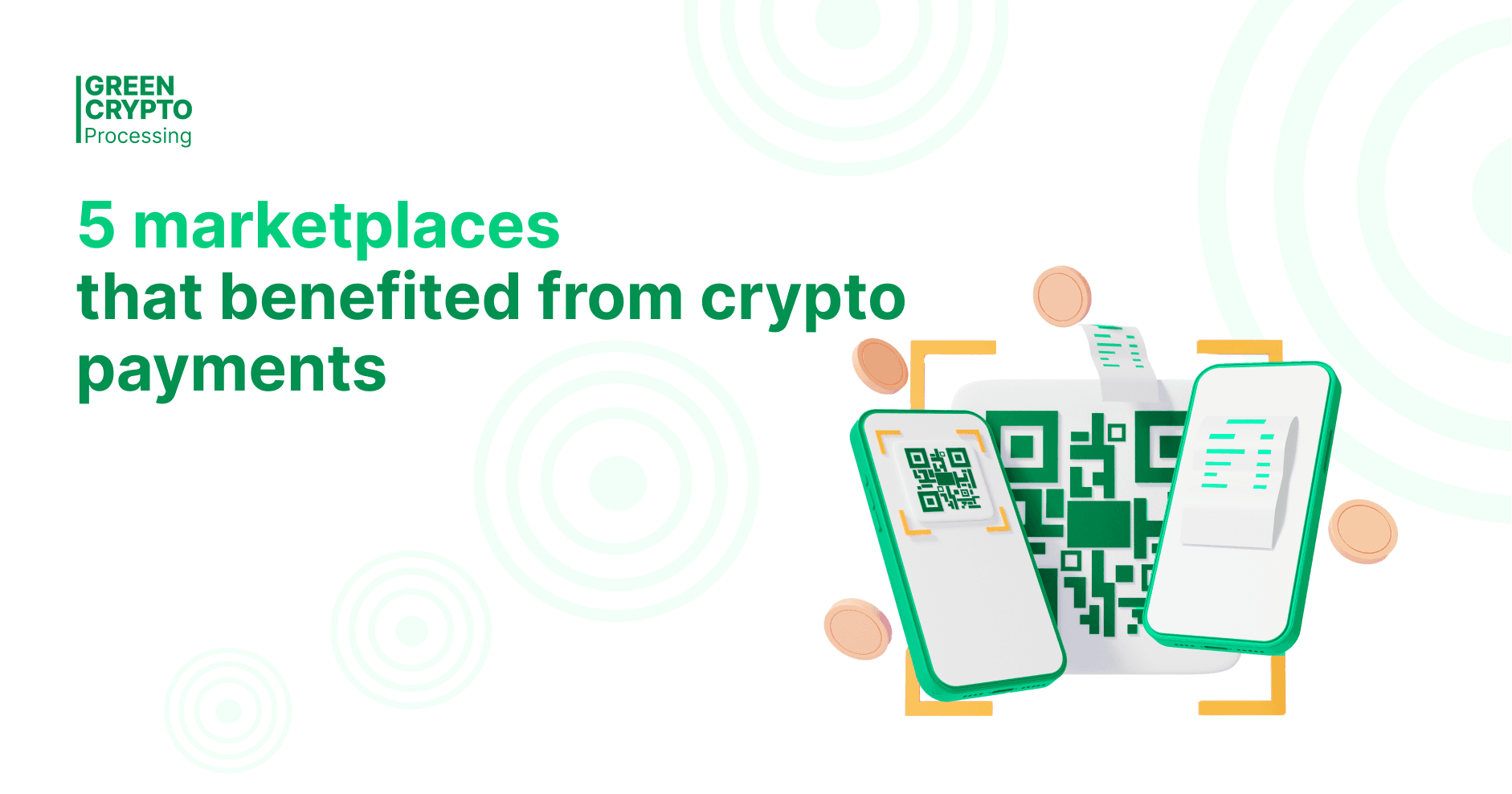 Here are some examples of companies that have achieved incredible results thanks to cryptocurrencies. Are you ready to dive into real success stories? Then let's get started!
Why do marketplaces accept cryptocurrency?
There are many reasons why many companies have started to accept cryptocurrency as one of their payment options:

 
This is certainly one of the most attractive aspects of cryptocurrency, as it relieves business owners from the influence of third-party centralised authorities, which can delay the transfer of funds or charge impressive transaction fees. This means that crypto payments allow customers to reduce costs while your business maximises profits.

 
Thanks to blockchain, the encryption and data storage technology, crypto transactions are more secure than any other payment method. All data gets stored in the merchant's crypto wallet instead of the third-party online servers.

 
Crypto payments allow business owners to accept and convert funds instantly, which means that your customers are free to choose the cryptocurrency they can pay with. In addition, low transaction fees and access from anywhere in the world will also provide your business with a larger market and attract new customers.
Top 5 marketplaces that benefited from crypto payments
Here 5 well-known companies that have seen tremendous levels of growth by introducing cryptocurrency as a payment method:

 
1. Ravestag
If users want to easily, quickly and securely exchange cryptocurrency for fiat (and vice versa), Ravetag can help. The company aims to develop a completely new market and gradually open it up to more and more people by providing customers with modern and secure tools to exchange digital assets for traditional ones. Ultimately, Ravetag has benefited from the introduction of cryptocurrency into its business more than anyone else.

 
2. CryptoBeans Coffee
CryptoBeans Coffee is a crypto-friendly company specialising in small-batch coffee. The marketplace, which provides fresh roasted coffee, is themed towards a crypto community and accepts over 100 cryptocurrencies. By focusing on crypto payments, CryptoBeans Coffee was able to reach a young, tech-savvy and innovation-oriented demographic - which has always been a major consumer of coffee.

 
3. Travala.com
Travala.com is one of the largest travel platforms, which covers over 500,000 properties worldwide and allows booking flights, accommodation, etc. The main reason why the platform has grown from a small start-up to one of the market leaders is due to the introduction of blockchain and crypto payments. The platform supports numerous cryptocurrencies, which is why crypto enthusiasts find it best over dozens of competitors.

 
4. Whole Foods
Since Whole Foods, one of the largest food retailers, began accepting crypto payments and using technology that can instantly convert bitcoins (BTC) to dollars (USD), its sales have skyrocketed. And no wonder: not many stores specialising in natural and organic foods accept cryptocurrency as a payment option.

 
5. Sotheby's
When it comes to private collections as well as art, jewellery and real estate sales, Sotheby's is certainly the first thing that comes to mind. In 2021, the auction house announced that it would begin accepting crypto payments: first in bitcoin (BTC) and then in Ethereum (ETH). As a result, Sotheby's gained a higher level of popularity and success.
We have gone over the top 5 marketplaces that benefited by integrating crypto payments into their operations. And if you want to boost your business, there are many benefits from implementing crypto payments.
With Green Crypto Processing, you can customise your crypto payment acceptance to your business, whatever its type or size. GCP's flexible constructor will allow you to choose your API and tariff - thus, you will achieve maximum impact and discover a completely new, promising market.