Blog
Blog
How to secure your cryptocurrency?
Back
The principle of free use of digital assets is at their very core, which is undoubtedly an advantage. But on the other hand, it entails a number of nuances: the user must ensure the safety of his funds when buying, storing and investing. Otherwise, attackers can withdraw all the cryptocurrency from your digital wallet, and it will be virtually impossible to get back the stolen coins and tokens.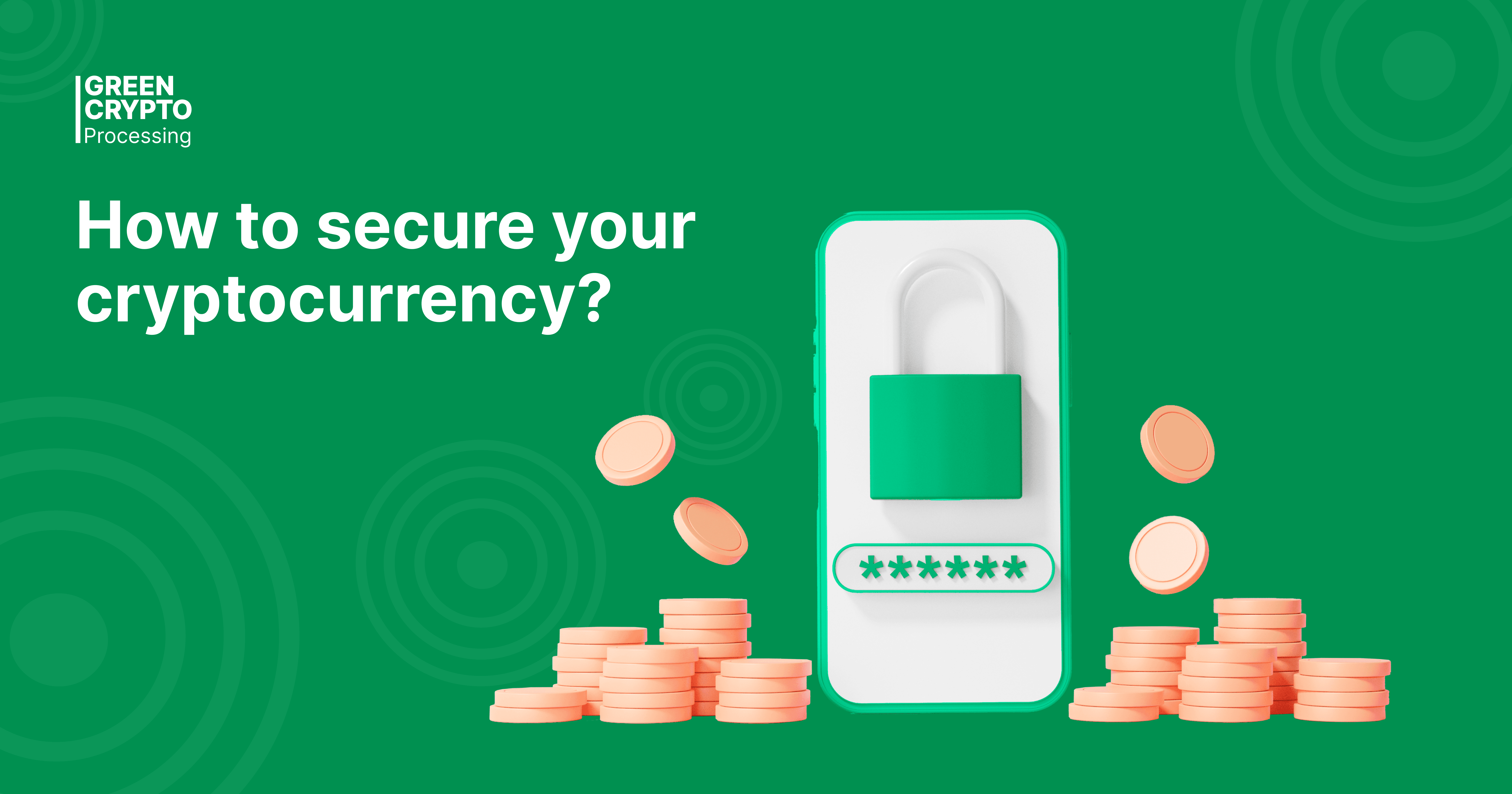 Cryptocurrency owners need to know how to safely store and use their digital assets. Therefore, in this article we will talk about the most effective ways to protect cryptocurrency.
Sites to buy cryptocurrency safely
There are many places to buy cryptocurrency. These include:
centralized exchanges;
decentralised exchanges (DEX);
cryptocurrency ATMs;
P2P marketplaces.
Each of these exchanges has its own advantages and disadvantages, as well as its own degree of security. Most cryptocurrency users who want to secure their funds use centralized exchanges with a good reputation that offer the best balance of convenience and security.
Choosing a reliable cryptocurrency exchange
The security of centralised exchanges is ensured through a number of safeguards, such as AML (Anti-Money Laundering) and KYC (Know Your Customer) procedures. To start using a crypto-exchange, you need to transfer funds to its custodial wallet.
Using centralised exchanges has its pros and cons. On the one hand, this method is quite safe for novice users who are afraid of accidentally losing access to their cryptocurrency wallet. On the other hand, there is no personal - more reliable - control over your funds: if you do not own the wallet, someone else has control over your cryptocurrency.
When using DEX exchanges or P2P services, you should look for signs of platform reliability, which include having an audit by a reputable source (for DEX), conducting mandatory KYC checks for buyers and sellers, and having an escrow service (for P2P). Of course, this is not a 100% guarantee against risk, but it can help the buyer and seller provide additional protection against fraud.
Ensure account protection
Regardless of the service chosen for trading, the cryptocurrency owner needs to follow three simple rules that can ensure the security of the account, the online bank account and other sensitive information:
 
1. Use a strong password and change it regularly.
The password should not contain personal information such as your name or date of birth. You should create a long password specifically for this account, adding symbols, numbers, lowercase and uppercase letters.
 
2. Set up two-factor authentication (2FA).
You should use your password and 2FA when logging into your account. If your password is compromised, 2FA will be the second level of protection.
 
3. Avoid phishing attacks and scams.
Fraudsters posing as exchangers and trustees to steal your funds can attack via email, social media and private messages. In addition, software downloaded from unknown sources may contain malware.
Secure storage of cryptocurrency
Once you have purchased the cryptocurrency and taken the necessary steps to protect your account, you need to put the funds in a safe place. In case you don't want to keep it on the exchange for further trading, you will need a wallet.
The wallets differ in the ownership of private keys and the Internet connection mechanism, and the choice between them depends on the level of security that suits you.
Private key
A private key provides access to the funds contained in a wallet, so securing it is a critical aspect of cryptocurrency security. 
Private keys consist of a very long number, which is impossible to guess, and their number is close to the number of atoms in the universe. Thus, thanks to the private key, the cryptocurrency in the wallet is secure.
A private key can be used to generate a public key, a public address used on blogs, social networks and other public sources. This process is irreversible: it is virtually impossible to generate a private key with a public address.
If you lose your private key, you lose access to your funds, and if it becomes known to anyone else, an unauthorized person can spend your cryptocurrency. Thus, the security of the private key is paramount.
Seed phrase and its protection
As most wallets today are hierarchical deterministic, they rarely have just one private key. More often than not, they contain billions of different keys, which require a cid-phrase to generate.
A seed phrase is a set of 12-24 random words that can be used to access a cryptocurrency wallet. In the event that you lose access to your crypto wallet, they can be downloaded to recover your funds.
If you already have a cryptocurrency wallet, you will be prompted to back up the seed phrase when you create a new one. This way, the term 'keys' will apply to both private keys and seed phrases.
Don't give your seed phrase to anyone else: if an attacker gains access to it, they can import your keys into their wallet and steal your funds. In order to secure seed phrase, the following rules should be adhered to:

 
1. Do not store a seedy phrase on an Internet-connected device. 
If your computer becomes infected with a virus or hacked, and attackers are able to control it remotely, seed phrases will be at risk.

 
2. Choose offline storage facilities. 
A seed phrase can be stored on either a physical device or a device not connected to the internet. However, if you are using a cold cryptocurrency wallet, it is still worth backing up your key in case your device fails.

 
3. Think about the material and storage location of the ceed phrase on a physical medium.  
Many people write down the seed phrase on a piece of paper, but it can easily be destroyed or lost. Use a safe deposit box in a safe place or keep the Sid phrase in a bank. Some people even engrave the seed phrase on metal, as it is difficult to damage.
There are many ways to protect cryptocurrency today. In order to secure your funds when storing and using them, it is worth trusting simple and effective solutions. You should also consider the advantages and disadvantages of each option before depositing your cryptocurrency anywhere.