Blog
Blog
Ethereum: who accepts it and how to pay with it?
Back
Ethereum (ETH), or Ether, is the exchange unit of the blockchain of the same name and the second largest cryptocurrency after bitcoin. The number of companies accepting ETH is growing rapidly, and the potential of use of the asset is expanding day by day.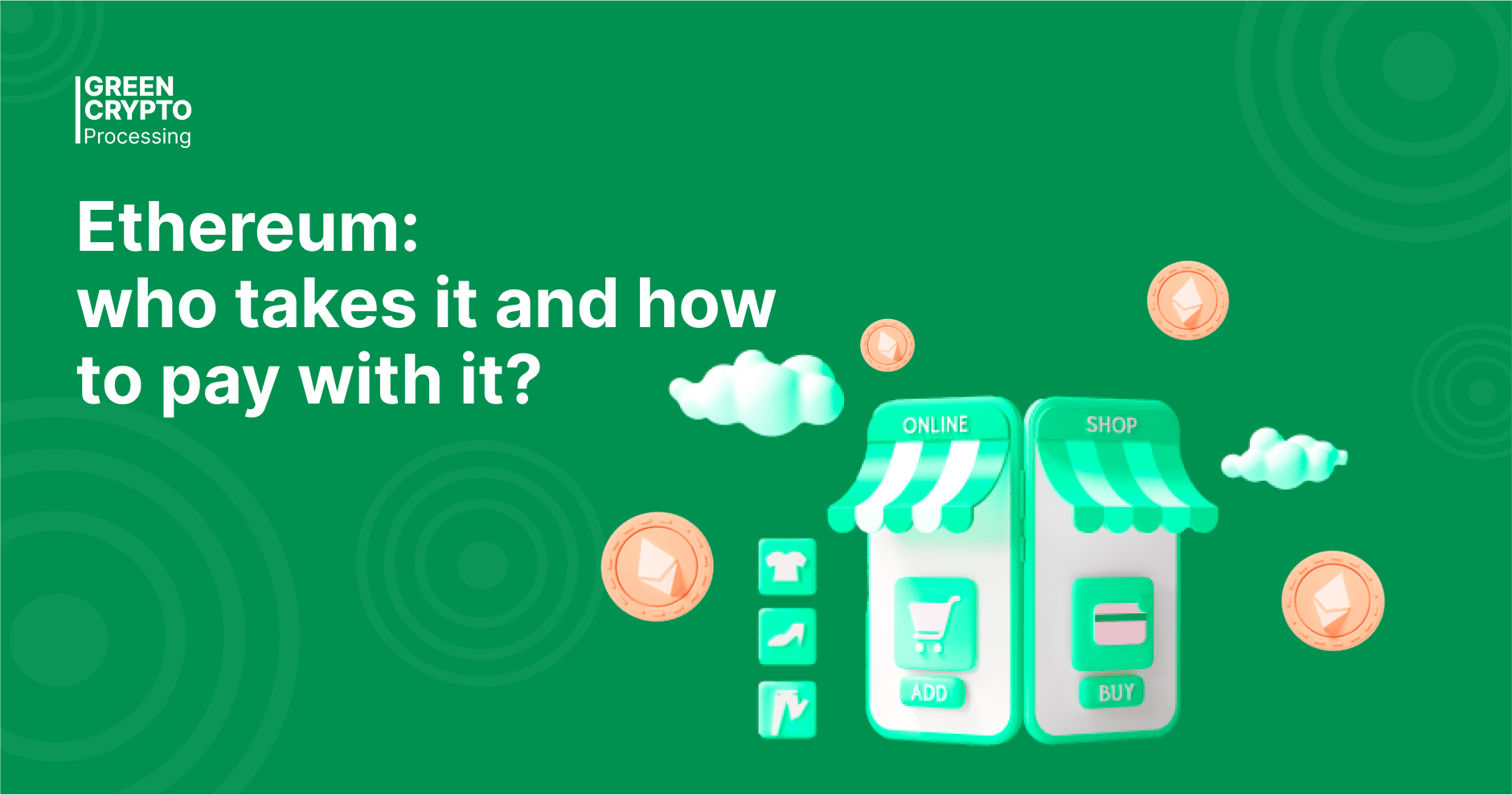 If you want to know how to pay with ETH and which companies accept it, this guide is for you.
Features of the Ethereum blockchain
Ethereum is a unique blockchain designed to improve the functionality of the bitcoin blockchain. Unlike the latter, Ethereum is extremely fast and can create a new block every 15 seconds (vs 10 minutes for bitcoin), which makes it easier to use in everyday life.
The platform not only stores the entire transaction history, but also informs how much money is in the wallet at the moment. And thanks to smart contracts used for process automation, financial management in Ethereum is quite simple and intuitive.
Another feature of Ethereum is its own cryptocurrency, Ether (ETH). Ethereum tokens are used to fund blockchain-based projects and DeFi, as well as to pay for various services and goods.
What can I buy with ETH?
With Ethereum, as with bitcoin, you can buy almost all goods and services. Here are a few options of what you can spend cryptocurrency on:
Food
Some restaurants and cafés, as well as food delivery services accept ETH as a means of payment;
IT product / web service
With Ether you can easily pay for VPN, software and Ethereum-based DApps;

 
Gaming and entertainment
Buy video games (including in-game purchases) and concert tickets, pay for sports broadcasts and streaming services with ETH;
Travel
Holidays for crypto are no longer a myth. Book plane tickets and hotels using Ether;

 
Clothes and fashion
Many well-known fashion brands and boutiques accept crypto, including ETH. This is also relevant for online shopping;

 
Jewellery and luxuries
Whether you are diversifying your assets or in need of new jewellery, use Ether to treat yourself;

 
Cars and vehicles
Want to ride in style? Then buy a car with crypto! Some auto dealers already accept ETH;

 
Real estate
Ether and bitcoin are two of the most popular cryptos for buying real estate;

 
Charity
If you want to donate for a good deed, use ETH. There are some nonprofit organisations that accept this cryptocurrency.
How do Ethereum transactions work?
Ethereum is similar to a global computer, made up of many individual computers that run the entire system together. We have written how the Ethereum blockchain functions here.
When making transactions in Ethereum, users pay a fee for executing smart contracts (referred to as "gas") in addition to the standard costs in Ether. "Gas" has a variable price, which is affected by network load. The higher the load, the more expensive the 'gas', and vice versa.
These fees are required for each of the contracts. If the operation is complex, a lot of 'gas' will be required. In general, 1 Ether unit equates to about 1 billion of 'gas'.
Network users can also create their own tokens using the ERC-20 standard that allows all smart contracts to be combined. It is not necessary to design tokens only as cryptocurrency - they can be various assets supported by the system.
How to pay with ETH?
There are 4 ways to pay with Ethereum:
Spend ETH directly with companies that accept it;
Use ETH like fiat via a crypto debit card;
Buy gift cards/certificates with ETH;
Send ETH to other users using P2P transactions.
How to accept ETH payments?
Using Ether, you can not only pay, but also receive payments in crypto. It is particularly convenient for online shop owners, for example. There are several ways to accept ETH:
1. Crypto wallet

To allow your customers to pay in ETH, leave your wallet details on your website. In addition to symbols, you can also provide a QR code.

But remember that all blockchain transactions are anonymous, so there is no way to see who owns the wallet. This can lead to confusion in a large number of transactions. Thus, this option is preferable for smaller businesses that trade exclusive items.

 
2. Acquiring module

The acquiring module allows automatic, error-proof payments by linking transactions directly to orders. Within this method, all actions occur sequentially.
However, getting an acquiring module is not easy: it requires time and money to involve developers. So the acquiring module is more suitable for large businesses that conduct mass transactions regularly.

 
3. Crypto processing

Accepting crypto payments via crypto processing is secure and simple. The service acts as a payment aggregator, to which the online shop is connected, and takes care of all transactions. Also crypto processing charges a small fee.

Integrating crypto processing with a business is extremely easy and allows you to accept incoming payments in ETH almost immediately. This option is suitable for both small and large businesses.
Companies accepting ETH in 2023
In 2023, many companies are accepting Ether as a payment method. Here is just a small list of merchants:
Travala. A service for booking hotels and flights using ETH;
Bitrefill. A platform to buy gift cards from popular online shops and services;
Overstock. A multi-commodity online retailer that sells virtually anything you would need;
Snel.com. A VPS hosting service that accepts ETH;
Cryptoart. Digital currency of physical form. Each piece is a digital art, NFT, hand-assembled in a limited edition;
Chicago Gem Shop. Buy gems with Ether;
1000 EcoFarms. Online store for farm-fresh products that accepts ETH;
QHoster. Hosting and VPS service;
Peddler.com. Buy anything from this online shop using ETH;
FlokiNet. Cloud hosting and domain seller.
Do you own a business and want to accept payments in ETH? Or you wish to use this cryptocurrency in everyday life? Or maybe you want to find an alternative to bitcoin? In any case Ethereum is the most convenient solution, especially now - when there are many restrictions on use of conventional payment systems.