Blog
Blog
5 reasons for businesses to accept cryptocurrency payments
Back
Every year, interest in digital money systems grows exponentially: the number of cryptocurrencies is increasing, while more and more entrepreneurs are incorporating crypto payments into their businesses.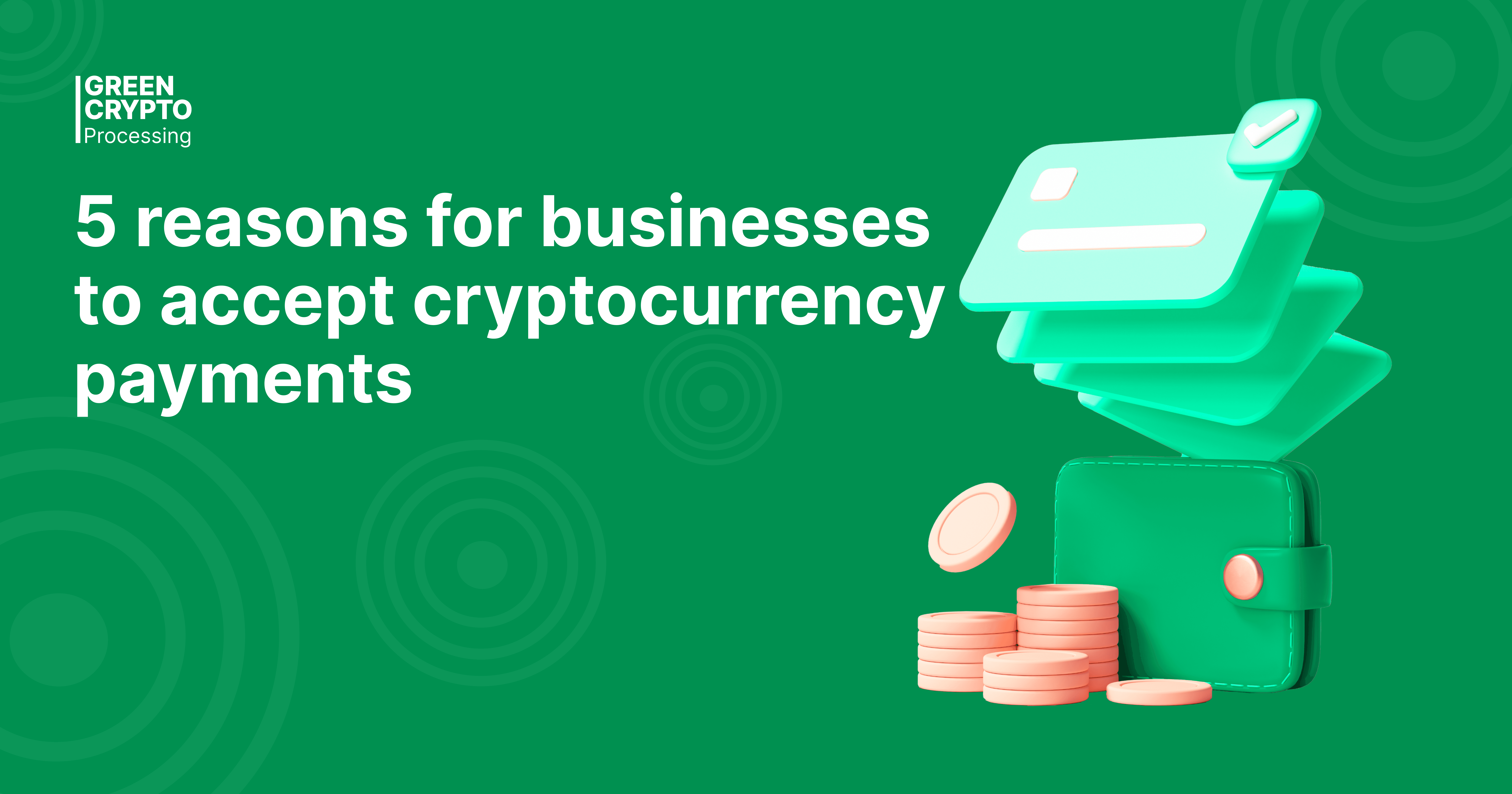 Here are 5 key reasons why companies should start accepting cryptocurrency payments.
High transaction speed. Unlike plastic cards or PayPal, where payment settlements are not considered final until a set period of time, usually several days, has elapsed, the standard approval time for a bitcoin transaction, due to the absence of intermediaries, ranges from 15 to 60 minutes.
 
Transparency and security. Any cryptocurrency transaction can be verified on the blockchain itself and its status can be verified from the source. In addition, cryptocurrency payments are protected by cryptographic encryption, and the only person who knows the password and has access to the funds is you. This ensures that there is no risk of hacking at the technological level and that transactions are transparent and secure.
 
Lack of chargebacks. The peculiarity of cryptocurrency transactions is the impossibility to make chargebacks, as the cryptocurrency wallet system only allows you to transfer from one wallet to another. Therefore, the absence of chargebacks will allow your business to prevent possible losses.
 
Attracting customers from anywhere in the world. Because cryptocurrency is decentralized, you can do business and make payments from anywhere in the world, allowing your company to tap into a high-tech, fast-growing market and attract new customers. In addition, with Green Crypto Pay you can customize your payments using flexible rates and you can also combine two types of rates at once - interest rate and fixed rate - depending on the average size of your payments. The interest rate will be advantageous for an average payment of up to $600 and the fixed rate for payments of $600 or more.
 
Sales growth. With blockchain technology, a customer will not be able to make a purchase without sufficient funds in their account, nor will they be able to dispute or cancel a transaction - the company receives money almost instantly. Decentralized cryptocurrency allows you to accept payments from abroad, which will also help expand your audience and scale your business.
With Green Crypto Processing you can join the circle of advanced companies that have tripled their customer base through crypto payments. Get started now!